Gold Coast Pianoman Alex Fietz has performed over 7000 gigs (both locally and internationally since 1990) in corporate entertainment, weddings, clubs and restaurants as well as multiple long term residencies in 5 star hotels, resorts and cruise ships. He also appeared on a popular Netflix series playing his portable black baby grand piano for a surprise marriage proposal. Alex will enchant your event with his rhythmic and melodic piano playing skills along with his classically trained voice that belts out all the timeless hits. 
1500+ songs featuring Aussie rock classics, popular pianobar sing-alongs,  jazz, soul, R&B, timeless hits and some of the latest top 40 charts.  He sings Andrea Bocelli to ACDC and everything in-between. 
From 'classical cocktail hour instrumentals' to 'get down on the dance floor' Alex has got your back.
Elton John, Billy Joel, Frank Sinatra, Ray Charles, Michael Buble, Stevie Wonder, Queen, Eric Clapton, The Beatles, Rolling Stones, Van Morrison, U2, The Eagles, Dire Straits, Joe Cocker, Sting, Marvin Gaye, Cold Play, Ed Sheeran,  Pink Floyd, Bon Jovi, INXS, Crowded House, Cold Chisel, Little River Band, Dragon, Australian Crawl, John Farnham, Noiseworks, Peter Allan, Phil Collins, Prince, Creedence Clearwater Revival, Elvis, Jerry Lee Lewis, Bob Seger, ACDC, Neil Diamond, Bruce Springsteen, The Commitments and many more..
Are you currently at one of my live gigs ?
Please feel free to send a Live Song Request…
When you book Alex for your function, he will supply a Professional JBL PA System, Digital Piano and LED Lights
'240V MAINS FREE' setup available. Battery powered BOSE PA System
Alex has full public Liability Insurance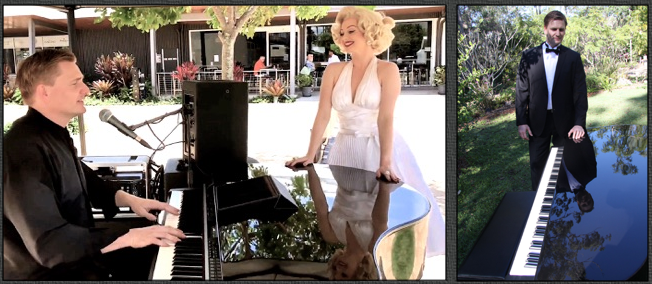 You can also upgrade to the Black Baby Grand Piano Shell (additional charge)
Black Baby Grand for your next Cocktail Party, Wedding Ceremony, VIP Function….
Alex has been entertaining at weddings since 1990 and has an innate ability to read a crowd. He knows what works well and rolls with the mood drawing from a song selection that caters for all ages from laid-back pre-dinner drinks through to non stop party and dance music. Online interactive requests via your guests mobile device are available throughout your event. Also, a spare microphone can be provided for you and your guests speeches.
At a typical wedding reception, Alex would start the event with quiet laid back Jazz, popular ballads and some instrumental music to set the mood (all at very moderate volume so not to interfere with table conversations). After the meal or during the cocktail service Alex will add in some of the more funky tunes as well as requests. At this stage, after your wedding dance has been performed, or, when the time is right, Alex will invite your guests to join you on the dance-floor with timeless hits. He will ensure the ambience is just right.
Alex is also able to cue all kinds of subtle sound effects during speeches as guests approach (eg. drumroll, applause, popular movie themes) to create a little interactive 'fun'…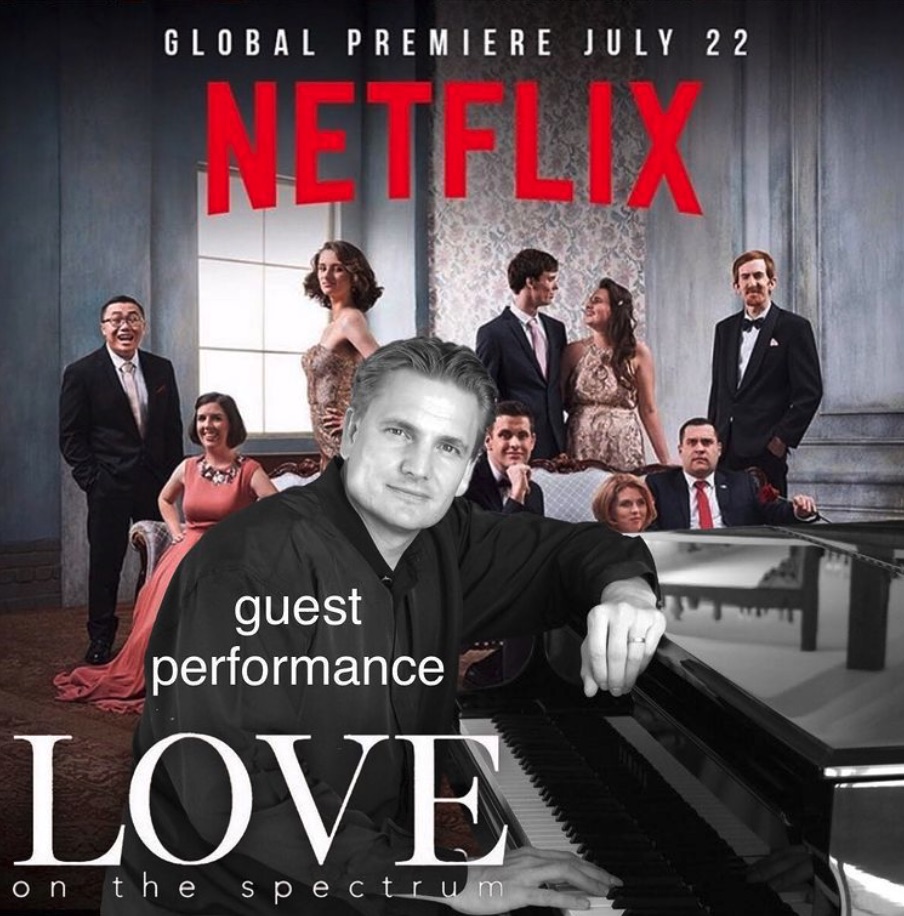 Performed on the portable black baby grand for the ABC and Netflix series 'Love on the Spectrum'